My wife and I discovered Adventure Time on our honeymoon of all places. Park City, Utah. No snow in sight, despite it being the start of December. It turned out for the best—had we been out and about, we wouldn't have found a new favorite show. 
The first episode we saw was Season 2's "The Limit." It starts something like this:
On a visit to Hot Dog Kingdom, Finn, our tween boy protagonist, and Jake, his adopted brother (also a magical talking dog) spy a flare exploding in the sky, a Hot Dog SOS: B.U.T.T.. Hot Dog Princess (think puppy faced, crown wearing, quadruped hot dog) asks our intrepid heroes to save her incompetent Hot Dog knights.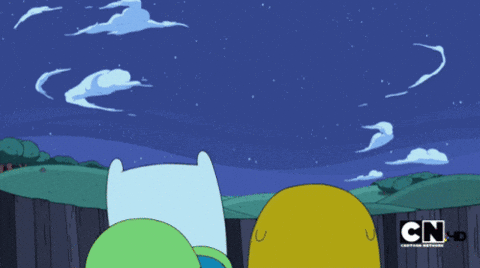 We were immediately drawn into the nonsensical rescue mission, which leads the boys to a mystical labyrinth full of traps, peer pressure, and monsters, culminating in the granting of wishes for (spoilers) a sandwich and an Ancient Psychic Tandem War Elephant.
After that first magnificently out-there episode, we were hooked.
Adventure Time is set in a dystopian future. Earth, now known as "Ooo," has gone through the ringer. A Europe-sized chunk of land is simply MIA, presumably blasted away in the Great Mushroom War. That same nuclear conflict wiped out almost all human civilization, and left the planet a radioactive wasteland.
But to quote the ever wonderful Jeff Goldblum, "life finds a way."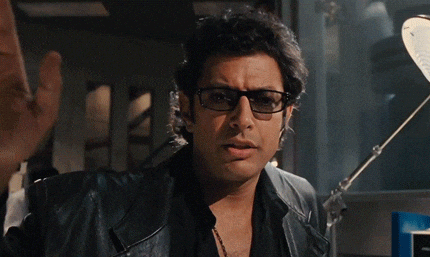 A thousand years later, Ooo is no apocalyptic hellscape. Instead, it's bright and joyous—a magical place both figuratively and literally. Sentient foodstuff and talking animals populate the Dungeons and Dragons on psychedelics world alongside braggadocious ogres, myriad princesses, party gods, sweetie pie robots, concert going undead, living landscapes, and so much more.
Most importantly, there's one delightfully energetic human and hero, the aforementioned Finn. My affection for him can't be overstated; this is one brave, fun loving, and sensitive boy. Watching him grow up (and hearing voice actor Jeremy Shada age along with him) has been one of the small screen's choicest delights. Few fictional characters manage to be so winningly earnest and effortlessly likeable. Joining Finn on 99% of his capers is magically stretchy yellow dog/roommate/best friend/gourmand/adopted brother/worldly role model Jake.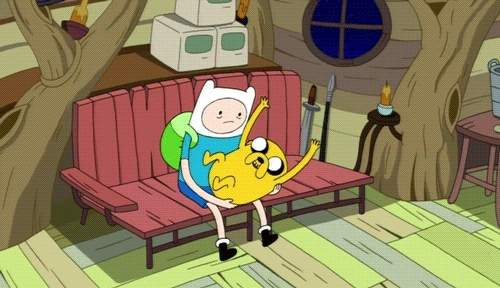 A typical episode revolves around the lovable pair stumbling into some mystery, dungeon, do gooding opportunity (whether that's delivering some delicious royal tarts to a world wide back rubbing ceremony or being charged with finding the missing president of Fish Parliament is anyone's guess) or just trying to pass the time. The eleven minute runtime ensures Finn and Jake's adventures always clip along nicely and never overstay their welcome.
And while F & J are certainly the stars of the show, that's not to say there aren't other equally charming characters. Series staples include: Princess Bubblegum, the scientific whiz and absolute monarch of the Candy Kingdom, Marceline, a thousand year old teenage axe-bass playing vampire, BMO, a walking talking video game console with an inscrutable imagination, and Lumpy Space Princess, an incorrigible gossip and vagrant by choice, just to name a few. I can't think of a show with as varied a supporting cast.
One of Adventure Time's many strong points is letting its motley crew grow in unexpected ways over its ten seasons. Who would have guessed that the princess-napping Ice King, the primary antagonist in early seasons, would slowly transform into one of Ooo's most beloved characters or that we could ever feel sorry for the screeching, hysterical Earl of Lemongrab? As the show's characters age and grow, so too does its humor and themes, but it never loses sight of the value of a well timed fart.
Other strengths include its eclectic and memorable soundtrack, the silly yet sincere voice acting, its appeal to non wet blankets of all ages, the clean coloring and vibrant visuals that perfectly compliment the show's joie de vivre, and its consistent capacity to surprise. In her review for The New Yorker, Emily Nussbaum perfectly summed up Adventure Time as "one of the most philosophically risky and, often, emotionally affecting shows on TV. It's beautiful and funny and stupid and smart, in about equal parts…"  
Adventure Time's ten season run came to a bittersweet end earlier this month, and while Finn, Jake, and Co.'s story may be through, I can't think of a more rewatchable series. The gang will be keeping me company for years to come.
-Ian Stepp is an Information Services Assistant at Lawrence Public Library.
Images via Cartoon Network.