Summer Reading '22 has ended — see you next year!
Summer Reading '22 has ended — see you next year! Congratulations to all of our finishers!
Oceans of Possibilities / Océanos de Posibilidades
This summer, we're challenging every Lawrence kid and teen to read a total of 10 books and explore our immense Oceans of Possibilities here at Lawrence Public Library! Swim through endless reading reefs, dive deep into ten books, come up for air at our fun and free events, and hook a sweet catch of awesome prizes when you finish.
Adults, you have two challenges to choose from: The Book Squad Goals Challenge (runs through Dec 31) or traditional Summer Reading.
Summer Reading 2022 logo designed by LHS teen, Isabel Klish
READ 10 BOOKS & WIN STUFF!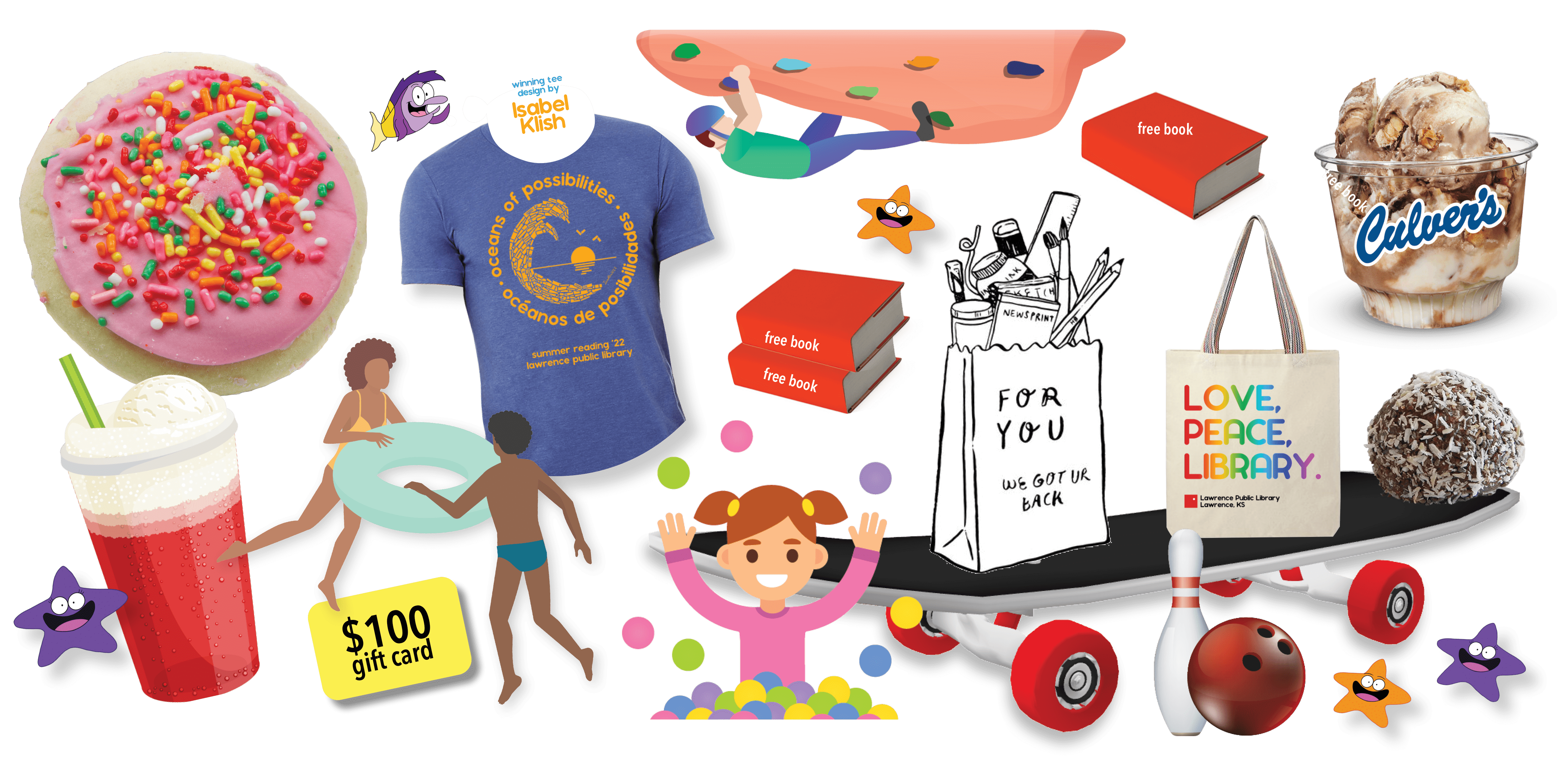 KIDS & TEENS — 1 free swim at Lawrence Parks & Rec, 1 free "Love, Peace, Library" tote bag, 1 free Eileen's cookie, 1 free bowling game at Royal Crest Lanes, 1 free book of choice, 2 free books of choice from a library book sale, 1 free Culver's sundae, 1 free t. Loft protein ball. JUST KIDS — 1 free open play at Up & Away. JUST TEENS — 1 Summer Reading tee designed by fellow teen Isabel Klish, 1 free float with soda purchase at Mass Street Soda, 1 free day pass & equipment rental at Climb Lawrence, 2 entries into our grand prize drawing for $100 Visa gift card (or) a River Rat skateboard (or) a Wonder Fair art package.

ADULTS
Feb 8th | 5:00pm - 6:30pm

---

Feb 8th | 6:30pm - 7:30pm

---

Feb 9th | 6:00pm - 7:00pm
TEENS
Feb 8th | 2:00pm - 4:00pm

---

---

Feb 13th | 4:00pm - 5:00pm
KIDS
Feb 1st | 6:00pm - 6:30pm

---

Feb 2nd | 10:30am - 11:00am

---

Feb 2nd | 6:30pm - 7:15pm
The Beanstalk app is awesome, but for you old-school Summer Readers who love holding a paper log in your hands, here's a downloadable way to capture your efforts and keep in a scrapbook.
WHY SUMMER READING MATTERS
Reading during the summer helps our kiddos avoid what's called the 'summer slide', the tendency for young people to lose critical skills learned during the school year when brains are less engaged over summer break, making it much harder to jump back into school in the fall if students fall behind.
Families with means can invest in summer enrichment programs for their children, but young folks whose familes are struggling to make ends meet are the most at risk and vulnerable to decreases in reading skills.
We've made it part of our mission to fill that gap.
With dedicated youth professionals and librarians, we ensure every kid and teen in town has a place to learn, connect, create, and grow their brains for the next three months.
Download summerlearning.org's "Summer Reading by the Numbers" PDF here.