Explore the animal world with us, from our backyard buddies to the wild kingdom, through stories and online events for all ages!
Read a total of 30 hours this summer — just 20 minutes each day! You'll win cool prizes from generous local sponsors when you finish.
If you, your kiddos, and teens spend the summer reading with us, you'll be on the right track to repairing the toll the pandemic has had on your family's life and keep your student's brain active for a successful return to school.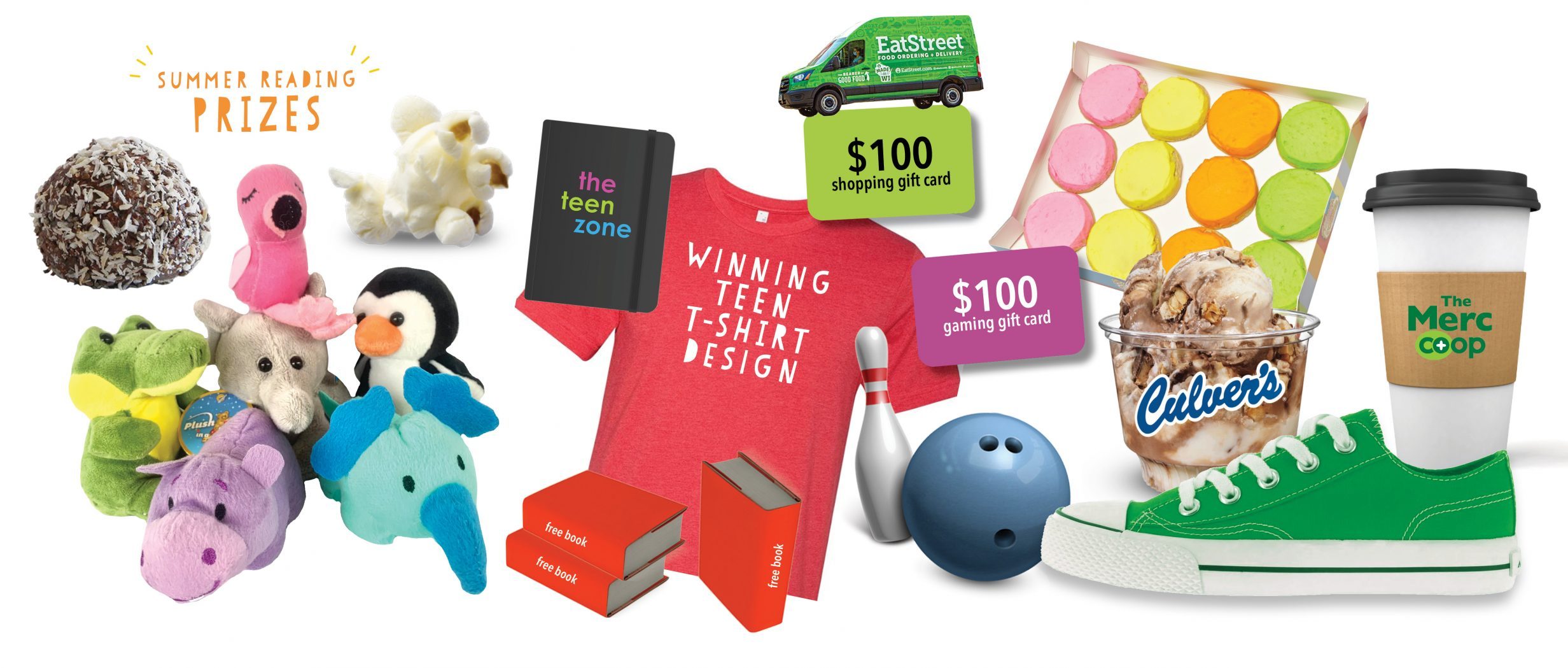 KIDS & TEENS — 1 pair of Payless shoes at 50% off, 1 Eileen's cookie, 1 Royal Crest Lanes bowling game, 1 book, 2 books from LPLFF book sale, 1 Culver's sundae, 1 t.Loft protein ball; KIDS ONLY — 1 mini plush animal; TEENS ONLY —  1 tee featuring the winning Teen design, 1 blank journal, 2 entries in a grand prize drawing for $100 Downtown Lawrence gift card and $100 gaming gift card of your choice; ADULTS — 1 small Liberty Hall popcorn for first 400 finishers, 1 t.Loft protein ball, 1 Royal Crest Lanes bowling game, 2 books from LPLFF book sale, 1 8-oz Merc brewed coffee, Free delivery from Eat Street, Weekly raffle for gift cards
As part of our Youth Summer Reading efforts to help everyone read more diversely, we're partnering with READ Lawrence to get books by or featuring BIPOC* authors and characters in the hands of Lawrence kids and teens.
Finish the challenge and win:
1 coupon for a downtown mystery "freebie"
1 entry into a local book store gift card drawing
READ Lawrence seeks to promote education and personal development on matters of racial justice and equity by collecting and distributing books written by BIPOC authors on subjects relating to the challenges and successes of BIPOC people.
*Black, Indigenous, and People of Color

ADULTS
Nov 29th | 6:00pm - 7:00pm

---

Nov 30th | 3:00pm - 5:00pm

---

Nov 30th | 4:00pm - 5:00pm

Online Event
TEENS
Dec 1st | 2:00pm - 5:00pm

---

Dec 2nd | 4:00pm - 6:00pm

---

Dec 4th | 10:00am - 12:00pm
KIDS
Nov 22 | All day

Online Event

---

Nov 22nd | 6:30pm - 7:00pm

Online Event

---

Nov 23 | All day

Online Event

Combat summer learning loss
Improve reading skills
Increase desire to read
Improve self-esteem
Improve comprehension
Improve memory skills
This summer may be the best opportunity in a generation, opens a new window to connect kids and teens with books. With the school year finishing, we've got extra time on our hands. Summer Reading is a great way to spend it and our brains will thank us for it:
Numerous studies indicate that students who don't read or read infrequently during their summer vacation see their reading abilities stagnate or decline. This effect becomes more pronounced as students get older and advance through the school system. The situation for economically disadvantaged students is especially grim: if students from low-income families don't read over the summer, they are much more likely to fall behind their more privileged peers, widening the "achievement gap."
A million thank yous to our literacy heroes!