Welcome to the LPL Friends & Foundation
The Lawrence Public Library Friends & Foundation (LPLFF for short) does a lot and we have a lot of fun doing it. Libraries transform communities through access to information, resources, and technology, and you can help support and sustain our efforts at any level, from donating books, making a financial contribution, or including the library in your estate plan. Learn more here.
Read our 2020 Annual Report here.
The Friends Garage is open for single-person or single family appointments. Click our "shop in person" button below to reserve a spot to come browse the shelves. If you prefer to shop at a distance, click "shop online".
If you love the library, tell people!
The easiest way to support the library is by sharing how it impacts your life and why you couldn't live without your library card. Consider volunteering if you like to roll your sleeves up or long-term giving to help sustain our future.
BOOK SALES
Feel great about supporting the Lawrence Public Library, plus gain exclusive access to sales, events, and more.
VOLUNTEER
Volunteering with Friends & Foundation is a great way to give back to the amazing Lawrence Public Library.
WHAT WE FUND
Your incredible support supplements and strengthens the public's investment in the library.
See Lawrence: Parks & Green Spaces
Local artists got inspired by WPA posters to honor Lawrence's green spaces. All proceeds benefit the artists and Lawrence Public Library.
Here's how to get in touch.
Kathleen Morgan
843-3833 x 131
Director of Development &
Community Partnerships
Angela Hyde
843-3833 x 114 / 149
LPLFF Program Coordinator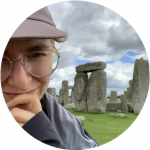 Logan Isaman
843-3833 x 153
Fundraising & Library Volunteer Specialist