Welcome to the LPL Friends & Foundation
The Lawrence Public Library Friends & Foundation (LPLFF for short) does a lot and we have a lot of fun doing it. Libraries transform communities through access to information, resources, and technology, and you can help support and sustain our efforts at any level, from donating books, making a financial contribution, or including the library in your estate plan. Learn more here.
Read our 2020 Annual Report here.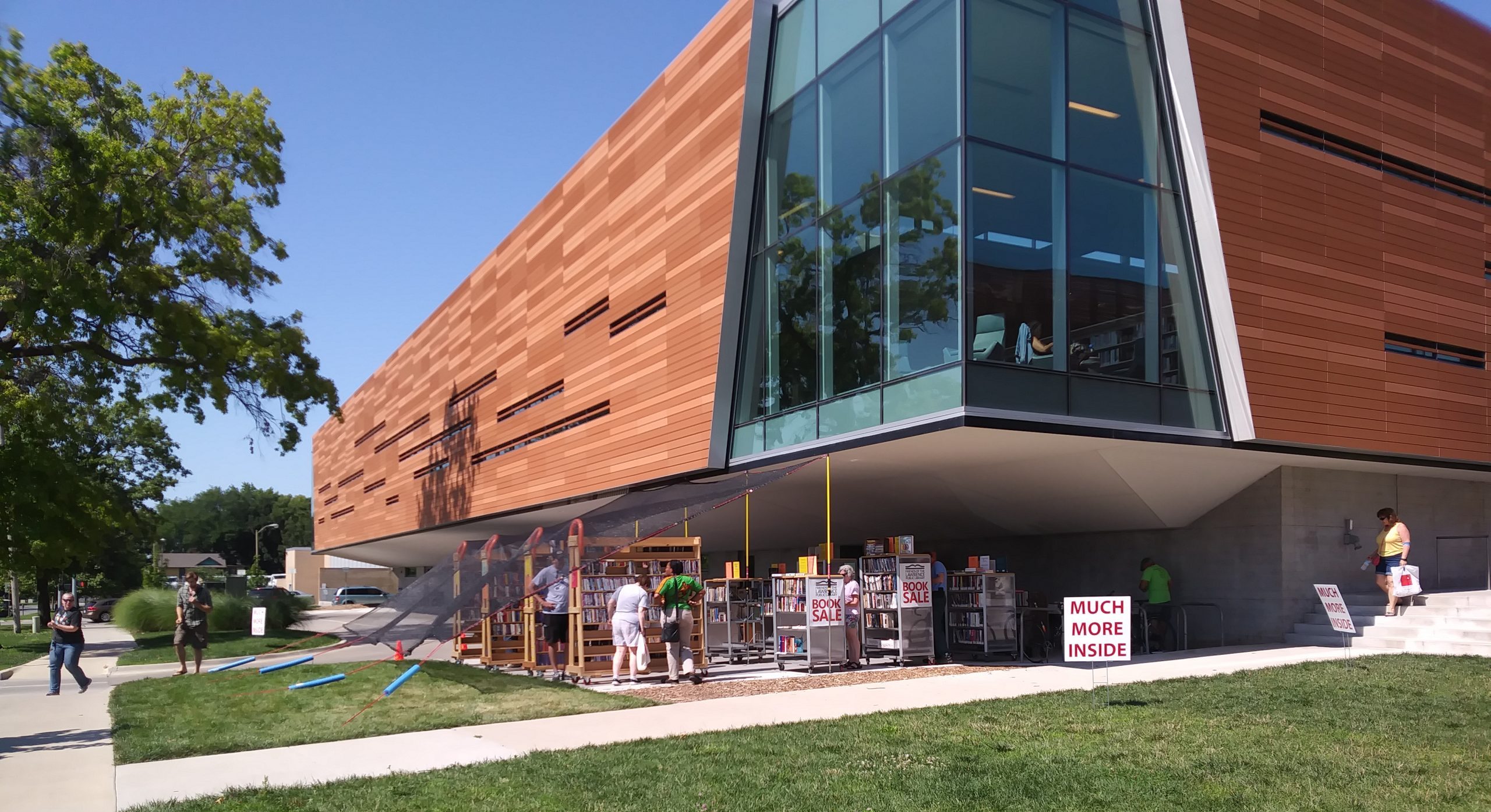 Downtown Sidewalk Sale
THU, Sep 9 | 10 AM – 4 PM | Library Lawn
Second Saturday Sale
SAT, Sep 11 | 10 AM – 4 PM | Library Lawn

The Sidewalk Sale is back so we're having a book sale! LPL staff and volunteers will have an informational table on Mass St. with the hopes of directing shoppers to the library for some great deals on books. All volunteers and shoppers will be required to wear a mask indoors at this sale, regardless of vaccination status. If you'd like to snag a spot at this sale, click the link below.
What's the most important school supply of all?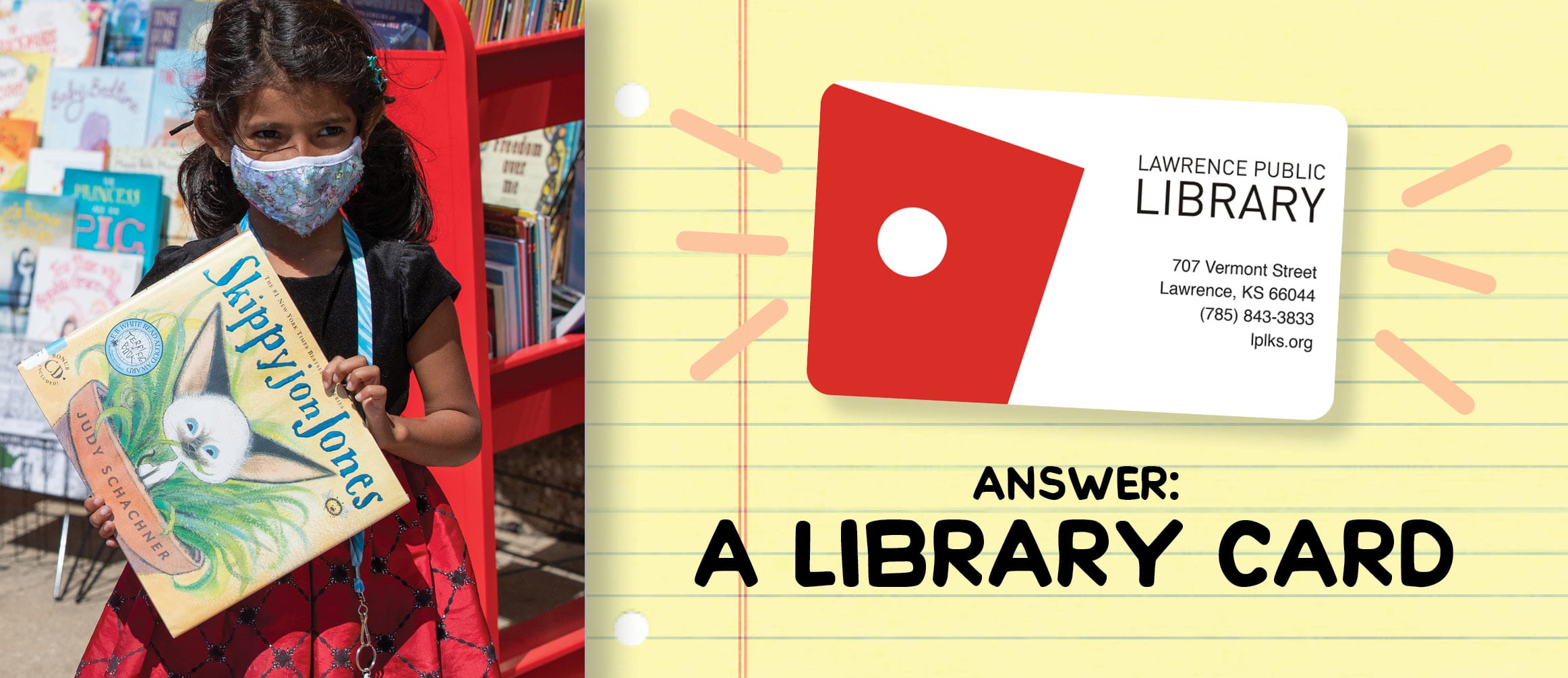 Over 10,000 Lawrence kids don't have a library card.
Not all children in our community have easy access to the library, from lack of transportation and time, to housing insecurity and language barriers. A library card can be used at a distance to access online learning tools, eBooks, and audiobooks — even to borrow laptops and hotspots for easy pick-up.
Your gift of $10 per month supports neighborhood outreach that connects students to books, technology, homework help, and more.
See Douglas County Parks & Green Spaces Art Project enlisted local artists to imagine outdoor spaces through the lens of the iconic WPA-era National Parks posters.
Designed to inspire wonder and evoke majesty, the posters invite the community to view their local parks and green spaces with new eyes and fresh curiosity. The project is an extension of last summer's See Lawrence Parks & Green Spaces, and continues with new local artists and several new parks and green spaces within Lawrence and around Douglas County.
The artworks are featured in the 2022 Douglas County Newcomer's Guide. Prints and postcards are available for purchase here, opens a new window.
FEATURED ARTISTS: Black Jack Battlefield, Baldwin by Jenni Leiste • Buffalo at Clinton Parkway Trail by Alex Olson • CPA Park, Eudora by Kassidee Quaranta • Japanese Friendship Garden by Torren Thomas • Potter Lake by Janella • Prairie Park by Lora Jost • Sandra Shaw Park by Angie Pickman • Wells Overlook by Lana Grove
Ways we support the library
BOOK SALES
Feel great about supporting the Lawrence Public Library, plus gain exclusive access to sales, events, and more.
VOLUNTEER
Volunteering with Friends & Foundation is a great way to give back to the amazing Lawrence Public Library.
WHAT WE FUND
Your incredible support supplements and strengthens the public's investment in the library.
Here's how to get in touch.
Kathleen Morgan
843-3833 x 131
Director of Development &
Community Partnerships
Angela Hyde
843-3833 x 114 / 149
Program Coordinator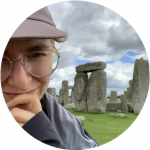 Logan Isaman
843-3833 x 153
Fundraising & Library Volunteer Specialist