Creative Suite B + C
Suites B and C feature Adobe Creative Cloud access for photo, graphics, and video editing. Suite C also features digitization equipment.
Recording Studio
The Recording Studio is a 2 room space equipped for recording music, full bands, modular synthesizer, and more.
Videocast Studio
The Videocast studio is equipped for recording podcasts, audiobooks, and filming video.
For more information about the SOUND+VISION Studio contact: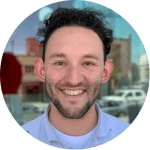 Joel Bonner
SOUND+VISION Studio Specialist
785-843-3833 x115