Are you a library lover?  Want to work at one of the busiest spots in town?  If you are 16 years or older, your next job could be at Lawrence Public Library. We accept applications for current positions only and do not maintain a file of previous applications. Applications are available here or at the Checkout Desk. (Please use Adobe Reader if you have problems with the application form.) If you have questions about the application process, please contact Sherri Turner, Assistant Director, at 785-843-3833 x 126 or via email at sturner@lplks.org.
Lawrence Public Library is an Equal Opportunity Employer
---
AmeriCorps VISTA Summer Associate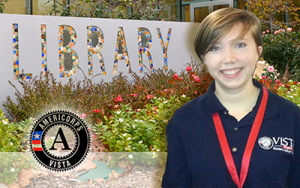 Lawrence Public Library is looking for an enthusiastic AmeriCorps VISTA Summer Associate to help with the library's annual Summer Reading and Summer Lunch Programs from May 29 – August 7. If you enjoy working with children and teens in a fast-paced and fun workplace, this is the perfect job for you! Click here for all the details and job application.
Questions? Contact Kathleen Morgan.
---
Teen Summer Reading Intern​​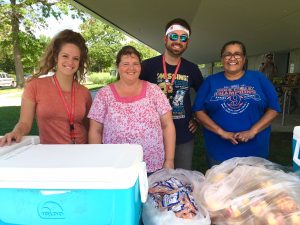 The Lawrence Public Library is hiring two teen (ages 14–18) interns for our 2018 Summer Reading Program. These positions were made possible by a generous gift from the Jedel Family Fund.
Teen interns will work 10 hours per week, May 29 through August 6. The selected candidates will be assigned to work on one of two ongoing children's summer reading programs.
"Exploratorium," Mondays 2-3 p.m., targeted towards 7-11 year olds
"Kidsapalooza," Wednesdays 2-3 p.m., targeted towards 5-6 year olds.
The teen intern's weekly 10 hours will include 3 hours of setting up for, running and cleaning up after their assigned ongoing weekly program; and 7 hours conducting research and preparing for the following week's programs.
Teen interns will also be expected to assist in the evaluation of programs, and to participate in a final review of their internship.
Responsibilities
Assist in various aspects of kids Summer Reading Program (preparation, research, implementation) as assigned.
Help prepare supplies and materials for kids' programs.
Assist in setup/cleanup of kids' programs.
Support and assist child participants in kids' programs.
Represent the library by wearing provided intern name tag while interning.
Other duties as required.
Requirements
Interest in education/leadership/working with kids.Ability to work as part of a team.
Ability to receive/follow instructions.
Willingness to learn and participate in everyday library work (shelving books, keeping areas tidy).
Must be self motivated and able to stay on task without direct supervision.
Must be available to work approximately 10 hours per week (as scheduled). Three of these hours must be during the weekly children's programs Kidsapalooza (Wednesdays 2-3pm) - OR - Exploratorium (Mondays 2-3pm).
Must be 14-18 years old, have transportation to/from the library, be reliable, on time, and be able to communicate with supervisor regarding vacations, time off, etc.
If this sounds like the job for you, please consider joining our team at Lawrence Public Library. This position is 10 hours a week. Wages are $9.00 per hour. Preference will be given to applications received by April 27, 2018. Email an employment application, cover letter, and resume to: Erica Segraves, esegraves@lawrencepubliclibrary.org.