Atlas: a collection of maps. It grants the viewer a representation of surrounding terrain, informing decisions and supporting a person's confidence to act. (This last part is my definition.)
Brene Brown's Atlas of the Heart appeared overly ambitious. Although her previous work is impressive and hugely popular, how could she possibly find a way to map out the breadth of human emotion in one book? It's a thing of beauty that she's so passionate about this topic to even attempt it. 

Brown makes a strong case for the accurate naming of what sometimes can seem so subtle. Emotions are clearly deserving of language, and perhaps too, of a practiced attention to their nomenclature. The phrase "atlas of the heart" reads as pure metaphor. Isn't every map composed of symbols anyway, even when it represents a physical landscape? She equates emotion to "places we go", like tourists visiting for a short time. Seems fitting. The chapters are:
Places We Go
#1 When Things Are Uncertain or Too Much
#2 When We Compare
#3 When Things Don't Go as Planned
#4 When It's Beyond Us
#5 When Things Aren't What They Seem
#6 When We're Hurting
#7 With Others
#8 When We Fall Short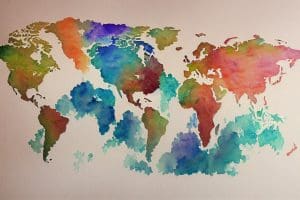 #9 When We Search for Connection
#10 When the Heart is Open
#11 When Life is Good
#12 When We Feel Wronged
#13 to Self-Assess
Brown acknowledges that we do not yet have all the necessary social science research to make definitive or unchanging statements about x emotion or y experience. By it's nature, science is constantly striving for more accurate understandings, which means adjustments along the way. Yet she distills the findings of meta-analyses, literature reviews, and personal research of dozens of human emotions into digestible and sometimes startling interpretations that run counter to what we commonly understand as "belonging" or "relief", for example.
Brown tells the reader, "Language matters. It's the raw material of story, it changes how we feel about ourselves and others, and it's a portal to connection."
The flip side is that sometimes these same named emotions can feel unhealthy for extended periods of time, effecting our ability to act or connect in a kind way with ourselves, much less with others. This is when honestly assessing our current mental health can be very important.
What is mental health? Mental health determines how we handle stress, relate to others, and make choices (MedlinePlus).
As library staff, we know that sometimes people struggle with their mental health. We would like to make it easier for you to find the information you need, creating a clearer atlas-to-feeling better, I suppose! 
Check out these resources for more information related to mental health:
Additional Health Resources
If you realize that therapy is not your primary need right now, especially if you're facing food insecurity or a lack of health insurance, check out our Community Resource page, which includes the library Resource Guide, which is updated by our Information Services staff on a quarterly-basis.
-Theresa Bird is an Information Services Assistant at Lawrence Public Library.