I moved to Lawrence a year ago, and ever since, I've thrashed around in the tumultuous waters of a love/hate relationship with the place. This newly-acquired confusion isn't exactly surprising - it's how all my actual romantic relationships tend to pan out, and, in fact, it was tumultuous love that originally flung me far from my hometown of Chicago to land with an unceremonious thud in Topeka, Kansas, of all places. Here's what I've learned about Lawrence so far.
1. It's possible to have feelings for two places at once.
I'm still very sensitive to criticism of Topeka, so put away the "armpit of Kansas" comments right now. They're demeaning, somewhat classist, and straight-up offensive. The only people allowed to trash talk Topeka are those who currently live there or lived there long enough to remember shopping at White Lakes Mall.
I lived in Top City almost long enough to criticize it, but found myself growing antsy. The time had come to tear myself away from the velcro of a big fish/small pond existence and the city itself, with its ridiculously cheap cost of living, ample opportunities for donating plasma, weekly marches on the capitol lawn, and all my hard-scrabble friends who can 1) beat me at arm wrestling, 2) drink me under the table, and 3) tell me a thousand impressive stories whether or not I want to hear them.
Despite all that charm, I wanted to chase new horizons, and not because I thought Topeka smelled funny. I departed partly for the novelty and partly for the amenities. I rented a U-Haul, stuffed it full of belongings, packed up my two kids and dog, and followed the scent of booze-meets-espresso-meets-patchouli down the turnpike to my new life as a Lawrencian. 
2. I'm old.
In my former town, I was merely the average mid-to-late-30s female, and wherever I looked, disgruntled aging Millennials, opens a new window looked back at me.
Now, in Lawrence, Millennials abound, and so do members of Gen Z*. Also the place is chock full of teenagers, and if you doubt the veracity of my claim, you're welcome to take over my Wednesday afternoon desk shift at the library. 
The median age in Lawrence, opens a new window is 28. It took a few weeks of consistently being called Ma'am at every coffee shop counter and checkout line before I had the epiphany: I'm past my prime.
Along with that revelation came an awareness of my proximity to a massive population of carefree pedestrians. This place is chill in January, mellow in the summer, but everywhere in between it's OMG I accidentally drove onto campus WAIT THIS WHOLE TOWN IS CAMPUS.
*Millennials are defined by the Pew Research Center as having been born between 1981 and 1996. Gen Z are those born 1997 or after.
3. I'm broke (and I'm not alone).
I work both a part-time and full-time job, plus occasional freelance, and I'm among 53% of Douglas County residents who spend 30% or more of their monthly income on rent. My kids and I live comfortably enough, though, with mostly reliable heat in the winter and fully operational plumbing, which is more than some Lawrence residents can say. In fact, 20% of the county population lives in poverty, a predicament facing minority race and ethnic groups disproportionately, although the vast majority - 80% - of residents are white. The locality ranks second among the state in highest level of income inequality. 21% of residents report housing issues like overcrowding, high costs, or lack of kitchen or plumbing facilities.**
The parks in my area are lovely, and our neighbors are retired KU professors, poets, and friendly students. The movie theater here has reclining seats! That's a game-changer.
But a stroll downtown can be a smack-in-the-face reminder of how little is left over from my budget after bills. I do spring for the occasional movie, basket of truffle fries, or fancy sketchbook, but the largesse of Lawrence's downtown shops, dining, and entertainment are largely inaccessible for our family. Lawrence has a wild streak, an excess of art and entertainment, and mouth-watering scents drifting on the wind, and I love Lawrence for those things, but not everyone can enjoy them. 
The Douglas County Department of Health is tackling both income inequality and housing accessibility issues as priorities for its 2018-23 Community Health Plan, and that's a positive sign problems are being addressed. But what else is happening to tackle these issues, fellow Lawrencians? Cue a newbie in.
**Data via Douglas County Community Health Data Report 
4. Lawrence has a really great public library.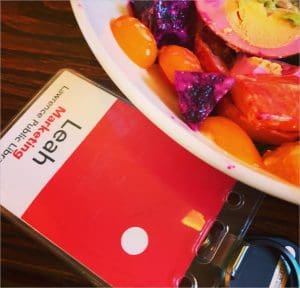 I'm biased, obviously, because I'm a public library enthusiast in general, and I work at this library specifically. Honestly, though, beyond its sunny entryway and friendly service staff, LPL is carefully listening to the community, forming valuable partnerships, and filling in vacuums with empowering information and resources.
We're also massively overachieving on providing free events that help form community, offer learning experiences, and are mostly fun and life-enriching stuff. LPL events are an alternative to venues manned by bouncers, and often are suitable for all ages.
5. There's still so much I don't know. 
Anytime I take a wrong turn or walk around my neighborhood, I discover some new and thoughtful thing like a path allowing walking KU students to bypass busy streets and instead cut through the pine-smelling yards of my neighbors. 
I learn that my favorite foods are lurking somewhere along my day-to-day path, like the cinnamon chip bread at Great Harvest and falafel bowl at Chebaro. People freely give tips and knowledge to help me get to know Lawrence, and I've witnessed some moments from the Welcome Desk that allow me to see the place has a good heart.
I'm in that phase of the relationship where Lawrence and I are living together now, taking things day by day. Despite my mixed feelings, we have had some pretty great experiences together. Ultimately, my Topeka friends approve, and that's a harbinger of good things to come.
- Leah Sewell is a Marketing Assistant at Lawrence Public Library.
---
List created by LPL_LeahS
A list by a new-to-town Lawrencian in an effort to get acclimated to new surroundings in Lawrence, Kansas, a small city with stories looming large and multidimensional.