I grew up watching superheroes in their 90s cartoon incarnations, so I've been familiar with a handful of female supers for as long as I can remember. That said, the overwhelming majority of superheroes in my orbit were men. Fortunately, the costumed do-gooder lineup has gotten much more diverse with every passing decade. I mean, it's still pretty white and muscly, but hey, Rome wasn't built in a day. After the runaway success of February's Black Panther, opens a new window, there's been a lot of buzz about an all-female Marvel team up; here's hoping that happens sooner rather than later. In the meantime, check out a few of our LPL staff favorite superheroines.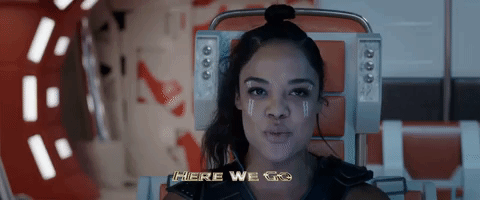 She-Hulk, opens a new window (a.k.a. Jennifer Walters) is the cousin of the original Hulk, Bruce Banner, and gets the Hulk powers after she receives an emergency blood transfusion from him. She is a lawyer and spends a lot of time defending other superheroes and literally smashing tables when the patriarchy gets in her way. I love the revolutionary potential of a woman superhero whose superpower is to grow physically larger in a world that generally tells women to be smaller, and I'm glad that her recent books (starting with Charles Soule and Javier Pulido's 2014 run, opens a new window) have lived up to it.


– Liz in Information Services
Kate Bishop hooked me after I read Matt Fraction and David Aja's Hawkeye: My Life as a Weapon, opens a new window, which depicts superheroes Clint and Kate in a fairly muted way, as real humans with real human problems that occasionally get roped into doing some superhuman stuff for the Avengers. Kelly Thompson continues that theme in the Hawkeye: Kate Bishop, opens a new window series. After trading in New York for L.A., Kate finds herself battling feelings of isolation as well as the pressure of taking the namesake of a more (in)famous and much more white guy predecessor. Not to mention, there are some serious family issues. This is still a superhero comic of course! But Kate manages like we all have to sometimes, with half a plan, the best intentions, and prepared to kick so much ass!  


– Kevin in Collection Development
I'm a fan of the Marvel movies, but I had no interest in reading any Marvel graphic novels until I heard about Squirrel Girl, opens a new window (I really like squirrels). Doreen Green is a smart, punny, optimistic computer science college student. She was born with squirrel abilities and what better way to put them to use than taking down bad guys? What I appreciate most about Squirrel Girl isn't that she's unbeatable, opens a new window or her Deadpool's Guide to Super Villains cards or her tweets with Tony Stark. It's her conversations with villains that explore their actions and how being a baddie isn't the only way to achieve their goals. Bonus Character: Nancy Whitehead. She's an avid knitter, cat lover, Cat Thor fanfic writer, and Doreen's roommate.

 – Emily in Cataloging
After the Terrigen Mist rolls through Jersey City, Kamala Khan, opens a new window's latent Inhuman powers awaken, and much like a young spider bitten Peter Parker, Kamala becomes a teenage superhero. Time and time again, she saves Jersey City from mad scientists, sentient computer viruses, and Hydra backed gentrification (among other things). All the while she's balancing good grades, a delightful and trope defying supporting cast, and some serious crushes. Shout outs to Adrian Alphona for some particularly great art and to G. Willow Wilson and Sana Amanat for bringing one of the most lovable superheroes in recent memory (and the first leading super Pakistani American Muslim!) to life.

– Ian in Information Services
It feels as if I've been reading comics for my entire life thanks to my older brother. What he read; I read and that frequently was the Marvel Universe. Being five years younger, it wasn't until I discovered the Power Pack, opens a new window that I really connected to Marvel. Alex, Julie, Jack, and Katie Power (my personal favorite) gained their superpowers by accident after their physicist father's experiments. What made this series captivating to me—and still does even now—was the Power children's self sufficiency in dealing with everyday issues that kids my age were facing, such as bullies and homework with some crime fighting on the side.

– Ilka in Readers' Services
With the punch in the feelies that was Avengers: Infinity War, opens a new window (no spoilers, I swear), you may find yourself wondering about what's next for the Marvel Cinematic Universe. Well, True Believers, you shouldn't worry. Carol Danvers (Captain Marvel) is getting her own cinematic installment, and I couldn't be happier. Captain Marvel is a personal favorite of mine, and her history in comics is fascinating. Originally appearing in the 1960s, Carol Danvers was an officer and pilot in the United States Air Force (she's currently a major or colonel depending on who you ask.) After an explosion melds her genes with Kree alien DNA, she gains superpowers. While tons of heroes, both women and men, have carried the mantle of Captain Marvel, none are quite like Carol, opens a new window.



– Margo in Youth Services
---
Finally, we're all waiting on tenterhooks for this October's Shuri written by none other than Nnedi Okorafor! Guys, she's going to be here in November, opens a new window! I hope she'll sign my copy.
Who's your favorite Marvel heroine? More of a DC fan or indie? Let us know if the comments.
-Ian Stepp is an Information Services Assistant at Lawrence Public Library.