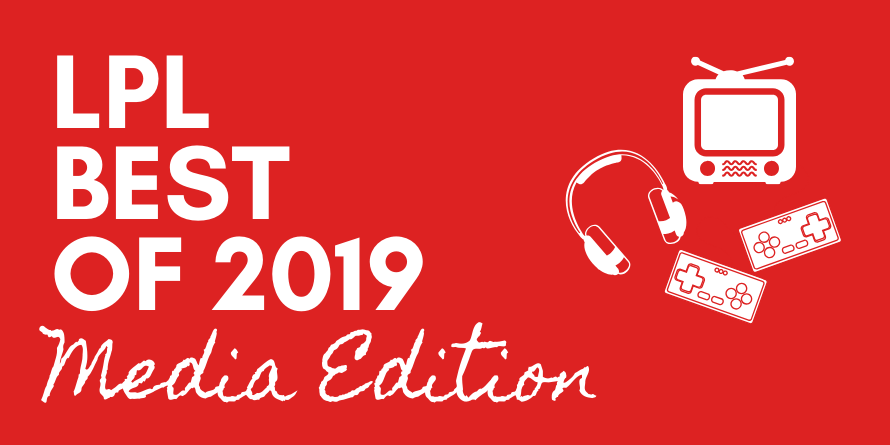 Here at LPL we love to read, but that's not all we love. Here are some of our favorite 2019 movies, music, TV shows, and video games. All available—except for some streaming exclusives—at your local library...sometimes after you get through a lengthy holds list ???
Becky
If Beale Street Could Talk, opens a new window
I had to check the date on the James Baldwin book this movie is based on-1974. Although the setting for the movie matches that year well, the story could have been ripped from today's headlines. Powerful, beautiful, and devastating.

Dan C
By Blood, opens a new window - Shovels and Rope
The new album by husband-and-wife, folk-country-rock duo, Shovels and Rope is as great as their others.  Cary Ann Hearst continues to sound as if she hails from the country's golden age, Michael Trent's raw vocals haunt, and the couple, who have a pair of young children now, echo the rhythm of family life, in turn heartbroken, tired, triumphant.

Emily
Booksmart, opens a new window
Female Friendship is my jam!

Erica
Downton Abbey, opens a new window
There are too many clichés to describe how perfect this movie is. Let's just say being back in the masterful world created by Julian Fellowes makes you feel like everything is just as it should be with all of your favorite characters. Bring on the sequels! 

Ian
Purple Mountains, opens a new window - Purple Mountains
"Purple Mountains" is self-deprecating, sweet, hilarious, heartbreaking, and fits right in with the best Silver Jews offerings. In light of Dave Berman's death, songs like "Maybe I'm the Only One For Me" emotionally devastate while still managing to nail the perfect mix of honky tonk and indie rock. RIP, Dave. 

Ilka
Good Omens, opens a new window
An angel, Aziraphale (Michael Sheen) and a demon, Crowley (David Tennant), have to work together to save the world as the end is nigh. This may not sound enticing, yet, I assure you, it is. So brilliantly written and executed are the words of Neil Gaiman and Terry Pratchett that the only end you'll be worried about is waiting for Season Two!

Joel
When We All Fall Asleep, Where Do We Go?, opens a new window - Billie Eilish
This is a breath of fresh air in the pop music genre. Dark, ethereal, and catchy, with production (handled entirely by Eilish and her brother Finneas) that carves its own unique identity amongst the pop music noise. There is something here for all kinds of listeners

Kevin
Fongola, opens a new window - KOKOKO!
Fongola sounds like a sentient techno junkyard is throwing a dance party that everyone wants to go to. Twangy, improvised strings, and typewriter snares are backed with the deep hum of a synthesizer, and raw vocals that demand sweaty party goers to shake their asses. 

Traci
Yesterday, opens a new window
A mysterious world blackout erases The Beatles from history. But due to a simultaneous bus accident, a floundering musician is perhaps the only one who remembers them. Performing their songs, he quickly becomes a rock star. Even if you're not a Beatles fan, you'll still enjoy this fun, charming movie.

Tricia
The Farewell, opens a new window
Poignant film that offers insight into the internal conflict experienced by first-generation immigrants - in this case, the young Chinese-American aspiring writer, Billi (played by Awkwafina).   I loved this window into Chinese culture, where community and family-centered values contrast sharply with American-style individualism.   

William
The Legend of Zelda: Link's Awakening, opens a new window
Explore a newly colorful Koholint Island filled with fascinating and familiar creatures and friendly residents on a quest for eight magical instruments that will wake the legendary Wind Fish. I was OBSESSED with the original Game Boy version as a kid, and this reimagining has blown my mind! 

Heather
Caravelle, opens a new window by Polo & Pan
On a non-stop, 9-month loop while getting tattooed a block from the Moulin Rouge, walking through Montmartre, drinking coffee on a balcony at 1 Rue de Trois Frères, walking to Wheatfields for croissants, watching Notre Dame burn live from work. As my son and I navigated meeting each other after his adoption 26 years ago. As my son prepared dinner for me for the first time. Caravelle by Polo & Pan is eternally 2019 for me.

And now for two greats series that are only currently available through streaming (hopefully not for long):
Molly
Tuca and Bertie
, opens a new windowIn my opinion, this animated TV show is about as close to perfection as TV shows can get. Based on Lisa Hanawalt's webcomic , opens a new windowTuca the Toucan, this show does such a beautiful job portraying women, relationships, and life experiences in a heartwarmingly, honest and incredibly, funny way. Sadly, it was cancelled after just one season but you can find Hanawalt's graphic novels in our collection at the library. 
Hazlett
Fleabag, opens a new window
Really brilliant! A show that escapes easy prediction at every turn, that sneers at unlikely topics and embraces other, even less likely topics. Fleabag is a young woman in London who owns a guinea-pig themed cafe (it's fine) and whose best friend died in a recent accident, in which (spoiler?) Fleabag is implicated. And from there… it gets stranger (but real-life strange, not fantastical strange). It is a bit vulgar, so, go in eyes open, but if that doesn't bother you: go! To your television! Now!
We'll be whipping up some lists in the catalog with even more staff picks so stay tuned. In the meantime, what was your favorite media of 2019?