The Problem:
I love reading and crafting, but I've got four kids and a demanding job, so I really struggle to find the time to put brush to decoupage medium. Working at the library also means I live in a personal hell, spending my days surrounded by books I want to read, then going home to find no time to read them.
To make matters worse, I've planted myself firmly with the minimalism band wagon.  My goal is to simplify, and I just don't want a thousand tchotchkes junking up my house, nor do I want a thousand "to be read" books on my nightstand silently judging me.  So what's a girl to do?
The Solution:
While cruising a crafty book display in the library, I stumbled upon a book,
The Repurposed Library
, that sparked a solution all my problems.  I can craft paper gifts from book pages!  This solution allows me to get my creative juices flowing, but I won't have a bunch of handmade stuff cluttering up my house.  I'll give my crafted items to the people I love so they can clutter their houses, or recycle my gift because it's just paper.  Sure it's a little selfish, but it's also a little selfless so the whole endeavor comes out morally neutral!
You: But Angela, how does this solve your reading problem? 
Me: I'm so glad you asked.  I simply waded into dark pool of audiobooks. 
You: *runs away*
Me: OK, wait. Hear me out.  I P.R.O.M.I.S.E. audiobooks aren't cheating.  Be kind to yourself, let go of judgement, and get that reading in any way you can, busy human. 
I've found that my favorite audiobooks are memoirs read by the author, a.k.a. the person who actually lived that life.  I got hooked on these audiobooks after hearing Trevor Noah narrate his life in
Born A Crime
.  When I listened to Michelle Obama narrate her life in
Becoming
it was all over. I was a proud audiobook person.  Nay, I was a proud and crafty audiobook person.
To take all this book love to another level, I'd decided to use paper from actual books as my crafting medium.  I snagged all the books I needed from the last day of the Friends Summer Book Sale.  I picked up five books for six bucks and there's lots of raw material left over. I also checked out every book in the 745s with the word "paper" in the title (my apologies to anyone who wanted a paper craft book at the end of August). The only other materials I needed were glue, scissors, floral wire, and watercolors.  
Without further ado, here are my favorite craft and audiobook pairings:
This was my absolute favorite paring.  In this book you'll find simple instructions to make quick paper flowers, gift tags, and banners.  These easy crafts pair nicely with some 90s SoCal riot grrrl back-story and witty banter.
Don't spend six bucks on a greeting card!  Make your own. Hallmark doesn't understand your life anyway.  To make this pairing work, grab a photography book at the
next Friends sale
, browse the ideas in Judi's book, and listen as Phoebe explains life.  The best part about this project is that you are telling another person how you feel in your own words.  Plus it's really hard to find a card to thank your neighbor for catching your runaway dog.  Again.
The book is a party, the audiobook is literary criticism for hilariously sarcastic librarians.  Mollie's book gives you more gift tags, and banners, but also gentle taxidermy.  That's where you paper mache creatures from wire and book pages.  Don't worry about it, it's fun, and it pairs perfectly with Annie's letters to her favorite and most hated books.  Don't worry if you haven't read all the books, there are no real spoilers and she might entice you to check out something new.
This one is for the kids, or the kids at heart.  Make absolutely magical and whimsical paper crafts while you listen to the story of a guy who turns trash into a magnificent art piece, which is now housed in the Smithsonian.  This book pairing is technically a YA choice, so fair warning, there is some Santa talk that younger crafters may find disturbing.  You know what I mean. *wink*
Below you'll find a few examples resulting from my new crafting endeavor.  These handmade gifts were lots of fun to make and I've already given several to friends. It's a great exercise in practicing gratitude, nurturing creativity, and hearing amazing stories.  Now get out there and be crafty, busy human!  Happy crafting.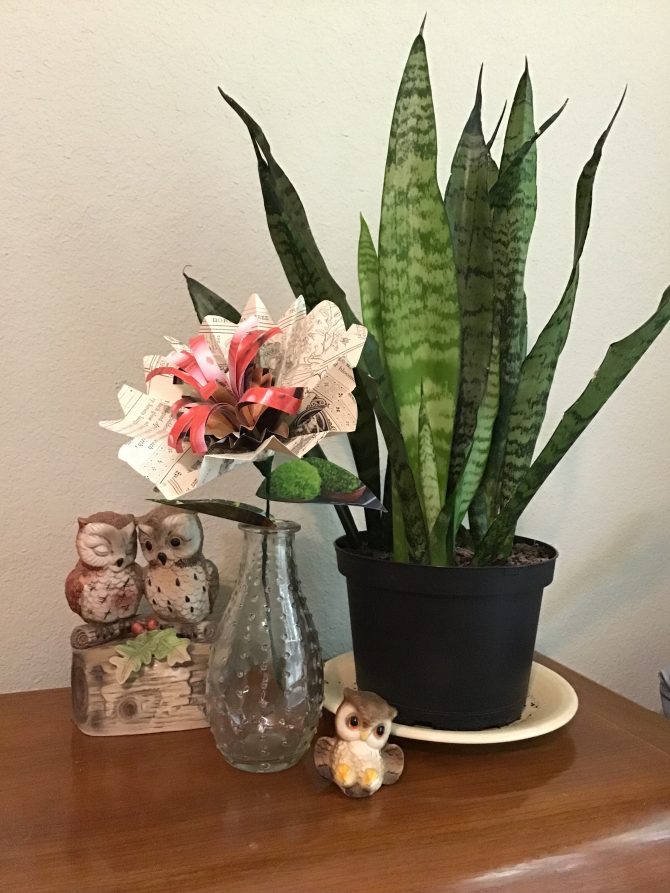 -Angela Hyde is the Friends of Lawrence Public Library coordinator.