As you're all probably aware, it's been far too toasty this summer. While swimming, ice cream, and of course the Lawrence Public Library as options to stay cool are AMAZING, you need something else. Swimming can come with sunburns, ice cream gets melty, and the LPL eventually closes for the night. For these tough times, what can you do?! 
Well friends, I have an answer for you! The library has an amazing selection of craft and DIY books to inspire your creative side and some audiobooks to keep you company as you work. I tried a few crafts from books out and I guarantee you'll enjoy DIYing and listening along as much as I did. 
Stuffed Animals and Sewing School

I admit, I'm a HUGE softie for stuffed animals. What's cooler than making your own stuffed animals? Nothing. The answer is nothing. Sewing School is a fantastic book for anyone who wants to start sewing but has never tried it before. With projects from bags to patches to stuffed animals, the possibilities are endless. This particular book includes patterns in the back you can photocopy and use to make your own creations. This is especially helpful if you're just starting out. I decided to wing it and pattern my own little cat friend. He's a little bit silly looking but he's got a ton of character. 

Now, hand sewing can take quite a while and can get a big tedious. For these times, it's always great to dive into an amazing audiobook. Inspired by my new cat friend, I came up with a few recommendations for audiobooks we have here at the library. First up is Catwings by Ursula Le Guin, the story of adorable kittens born with wings. The audiobook's run time is about 30 minutes which is perfect for an afternoon crafting session. Next, we have Kate DiCamillo's The Miraculous Journey of Edward Tulane about a toy rabbit's incredible adventures. I'm sure my new stuffed cat and I will have a lot of adventures of our own! The Miraculous Journey of Edward Tulane's audiobook is two hours long and can help you power through longer projects. In addition to being a good way to hide from the heat, sewing can also be an art. For projects that might last you a few days, I'd recommend Chasing Vermeer by Blue Balliett. Chasing Vermeer is a story of art theft, mystery, and puzzles that can keep you company through almost five hours of crafting. 



A Kid's Guide to Awesome Duct Tape Projects Coin Holder

Though not nearly as snuggly as a new stuffed animal, you can't beat practical crafts. I had an absolute blast making this fun and functional duct tape coin holder with instructions from A Kid's Guide to Awesome Duct Tape Projects. In addition to keeping your money safe, this craft is a perfect place to store your library card! Duct tape crafts don't take quite as long as hand sewing crafts, but that doesn't mean you can't listen to audiobooks as you go. My duct tape coin holder inspired recommendations are Lunch Money by Andrew Clements and The Beloved Dearly by Doug Cooney. Both books are about groups of kids who set out to make money but end up making new friends instead.


Amazing Clothes and Origami Chic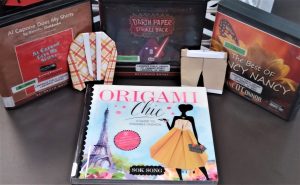 I've never been amazing origami. I find that directions are often confusing and hard to follow. That being said, following the directions and illustrations in Origami Chic was a breeze. This book is packed with designs for all skill levels. I decided to make the sweater and shorts and had a great time doing so. While I have sewing experience and vague experience with duct tape, I'm a relative newcomer to anything origami. Even with my limited skills, this book helped me make some pretty cool stuff. Overall, it was a fairly relaxing experience. Why not listen while you relax? I would recommend the fashionable capers in The Best of Fancy Nancy, the laundry and organized crime driven Al Capone Does My Shirts, and the wacky world of The Strange Case of Origami Yoda series. 



All these books and many many more can be found in the nonfiction section of the Children's Department. I hope you have as much fun as I did! Best wishes with crafting!