I've recently been reading everything I can find by Téa Obreht. Her stories are vivid and heady with realistic insight into death and grief while simultaneously invoking power from benevolent ghosts. She also writes knowingly of our connections to a place or an animal—especially a tiger in her first novel, The Tiger's Wife, and a camel in her new book, Inland. And although she includes some gritty language and violence, magical realism and wry wit also appear throughout.
Obreht's first book, The Tiger's Wife, earned the Orange Prize in 2011. Inspiration for this story originated from the death of Téa Obreht's grandfather; she and her family are originally from Belgrade, Serbia. The Tiger's Wife is a complex story set in the war-torn Balkans and the main character, Natalia, is coping with the loss of her grandfather. Mystical characters include the deathless man and the tiger's wife.
Just published on August 13, Inland, opens a new window is a cinematically-rich historical saga of benevolent ghosts, a charismatic camel and devastating drought. It is inspired by the obscure history of a defunct U.S. military experiment of camels imported as pack animals in the American desert; human handlers immigrated with the camels, traveling from the Middle East. Obreht discovered a podcast, "Stuff You Missed in History Class", that revealed this history. Her new book offers the complexity of a Serbian immigrant's years of struggle as a fugitive while in a parallel narrative, one day spreads out for the whole novel with a frontier woman maintaining her family with stoicism as their well runs dry. With prescient-like themes of immigration, drought, manifest destiny and Indigenous self-determination, Inland is rooted in our collective hopes for the American West and a story of two adventures that lead toward a shared discovery. This gritty & mystical story is gleaning much deserved accolades.
---
This quote by James Galvin is featured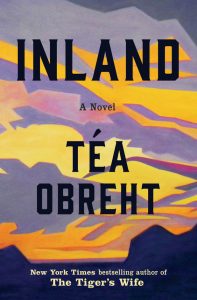 at the beginning of Inland:
"Time doesn't change,
Nor do times.
Only things inside time change,
Things you will believe, and things you won't."
---
Author Obreht and publisher Random House have created an illuminating reading group guide for Inland—including an interview with the author and apropos recipes for water (infused with lemon or watermelon), Southwest bloody mary and elk steak. Until you've read the book, avoid the discussion questions on the last page which include spoilers! The Book Club Kit for Inland is linked here, opens a new window.
I've made a list of anthologies that include short stories and essays by Téa Obreht, here is a link to this list, opens a new window. And while you're in the mood, read more vivid & haunting historical tales told with thoughtful characters and a strong sense of place; link to the full list here, opens a new window.
If you decide to read Inland or another story by Téa Obreht, I hope you'll consider sharing your perspective with me.
- Shirley Braunlich is a Readers' Services Assistant at Lawrence Public Library.
---
Acknowledgements
My gratitude to Téa Obreht and Random House for an advance review copy of Inland.
Credit to J. Drew Lanham for the phrase "storytelling and word-singing". Lanham included this in a review of the essay collection, Wildness: Relations of People & Place, opens a new window. J. Drew Lanham is the author of The Home Place: Memoirs of A Colored Man's Love Affair With Nature, opens a new window.