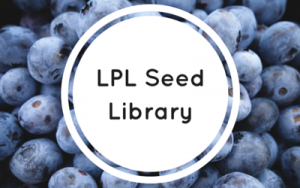 Lawrence Public Library's Seed Library is here to provide seeds and to organize gardening resources for our community. In addition to providing complimentary vegetable, herb, and flower seeds, we offer a variety of free programs and events on topics related to green spaces and green living. Whether you are brand new to gardening or have the greenest of green thumbs, we are here to help you get growing!
How Does the Seed Library Work?
1. Come to the library. 2. Pick out up to 5 seed packets from our seed catalog. 3. Take your seeds home and watch them grow!
Thanks to the generosity of the Kansas Health Foundation, Cottin's Hardware, the KU Center for East Asian Studies, Lawrence Feed and Farm Supply, Inc., Prairie Acres Garden Club, Earl May, the Seed Savers Exchange, and a Wal-Mart Community Grant, we are able to offer a wide variety of free seeds to the community.
(Also, Cottin's Hardware is offering a 10% discount on gardening supplies to Lawrence Public Library card holders. Show them your card, and ask for the Library Garden Discount!)