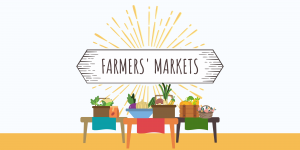 Lawrence boasts a vibrant community of local growers. Check it out at these farmers' markets!
Cottin's Hardware Farmers' Market: Thursdays from 4 – 6:30 PM.
Located inside (from October to March) or outside (from April to September) at Cottin's Hardware & Rental, 1832 Massachusetts Street
Local vendors offering fresh produce, baked goods, meats, and more!
Lawrence Farmers' Market:
Saturday Market
824 New Hampshire Street
2022 dates coming soon!
7:30 AM – 11:30 AM
Tuesday Market
South Park (1100 Block of Massachusetts Street in the Northwest corner of South Park)
2022 dates coming soon!
4:00 PM – 6:00 PM
Makers, Bakers & Acres:
On hiatus - check their Facebook page for updates!
608 North 2nd Street
Local market featuring an array of handmade goods, home-cooked foods, and farm fresh produce.
Double Up Food Bucks, a SNAP (food stamps) matching program providing dollar-for-dollar matching at regional farmers' markets, is accepted at both Lawrence Farmers' Market locations.