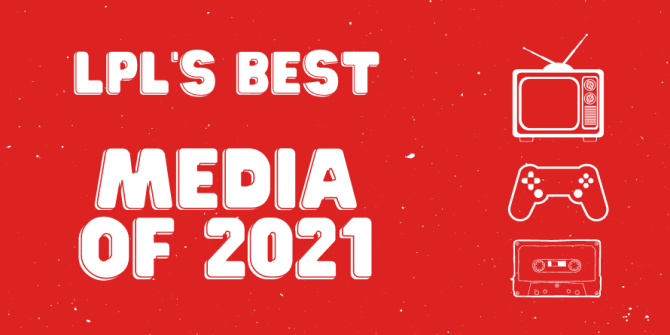 Time for the library's end of the year "best of media" blog post.
This year we decided to focus on the media we DISCOVERED this year so some of these will be brand new, but others might be a bit older.
Movies
Tricia
Judas and the Black Messiah -Here's my review from earlier this year "Absolutely riveting and heartbreaking, this film brings an unusual perspective to the events surrounding the 1968 execution of the head of the Illinois Black Panthers, Fred Hampton. If you are like me, you'll want to learn more about Fred Hampton and the often overlooked social service and community-building work of the Black Panthers. A good film to follow up with is the documentary "The Murder of Fred Hampton" - freely available on the Chicago Film Archives website: http://www.chicagofilmarchives.org/." 

Frankie
In the Heights (makes me wanna dance just thinking about it) OR King Richard

Sarah
Another Round (Discovered this year, came out last year). Four friends who feel bored with their lives decide to keep a steady buzz going to see if being slightly drunk all the time can help them feel some excitement again.

Becky
Soul So many things to like about this family friendly movie: voice actors Jamie Foxx, Tina Fey, and Questlove; music by Jon Batiste, and of course the message of appreciating your life, take chances and don't waste you time while you are here.

Kevin
2021
TITANE - Violent, moody, bizarre and heartwarming. Julia Ducournau has a talent for dumping viewers into a world maybe she only understands and making them feel truly connected to its occupants.

1993
Body Melt - The soundtrack alone makes me feel like someone can openered my head and dumped pop rocks in my brain. Throw in a bunch of gnarly body horror and corporate conspiracies and baby, you got a stew goin.

TV
Polli
Ted Lasso and Sex Education. You cannot make me choose. Both of them are smart, compassionate, thoughtful, hilarious, and they have incredible soundtracks. Both have some of my favorite depictions of friendships and masculinity I've seen on screen. Rebecca and Keeley and Eric and Otis forever! Sanity saving and joy bringing television.
Mary
Fruits basket (2019). This anime has 3 seasons and will emotionally destroy you, but that's okay because once you're done crying you'll finally get a much deserved happy ending. Besides emotional destruction this anime is a fantasy slice of life, filled with romance, friendship, and family. It's beautiful but be prepared to cry, a lot.

Ian
I didn't discover the animated Star Wars TV shows this year, but my wife watched them for the first time with me and it's just been a blast. Clone Wars, Bad Batch, and Rebels are all such fun shows and their highs (especially "The Siege of Mandalore) rank among the original trilogy as some of the best Star Wars out there. Clone Wars in particular fleshes out and retroactively improves the prequel trilogy which is a tall order.


ALSO I watched the entire G1 Transformers series for the first time and proceeded to buy a whole bunch of Transformers toys soooo mission accomplished, Hasbro/Tomy Takara.

Kate
Game of Thrones
I only just started watching this year and I'm not done yet, so no spoilers! I love it so far, the world is so immersive and the characters are well written. My favorite plotlines are probably Jon Snow's and Tyrion Lannister's.

Music
Jake C:
Montero - Lil Nas X, BTS- had some catchy songs this year, Adele - of course! In the Heights - Soundtrack, Whatever KPOP we have in the collection I listened to.



Tricia:
"Can't stop the feeling" by Justin Timberlake. It was the perfect song for lifting my spirits when I needed it.

Polli:
Taylor Swift - Folklore. My first *real* introduction to TSwift (yes finally) and I instantly fell in love with this album. Nearly every song is a gem and I rotate favorites, depending on my mood.

Mary:
Six the musical. A pop inspired musical based on the wives of Henry the VIII, of course it was my favorite thing of 2021! The cast recording is about 45 minutes long and is filled with nothing but bangers. It's a concert style production so aside from the chunks that connect the songs you aren't missing much of the actual story by just listening to the album.

Ian:
Instead of albums, I'm gonna go with entire musical genres and say I got super into City Pop (think Japanese disco, funk, pop) and MBP (musica popular brasileira) which is Brazilian pop music from the 60s to the 80s and is just incredible (check out Tim Maia and Luaka Bop's Brazil Classics series)
Sarah
C'est chic!: French girl singers of the 1960s
(Recommended by Ian. Thanks, Ian!)

Becky:
Guardians of the Galaxy [Songs From the Motion Picture]
Get in the car, turn it up and drive! No way to be in a bad mood after listening to these 1970's mega hits.

Kevin:
Czarface & MF Doom - SUPER WHAT??
This album is so dang good, but I can't wait for all the MCU references to sound dated as hell in 10 years.

Riley Downing -Start It Over
Some good lowdown, soulful country never hurt no one.

Chubby and the Gang -The Mutt's Nuts
Oi is cool again and Chubby constantly puts out off key head bangers that make me want to jump around in some big sloppy pit with a bunch of jovial punks

Kate:
Just Another Diamond Day by Vashti Bunyan
This album absolutely enchanted me. It is perfect for those who dream of a romantic cottage on the hillside, or travelling the countryside in a caravan. I would listen on repeat while gardening, cooking, and cleaning. Adds a bit of magic to the mundane.

So there's a taste of our picks. Find more at the following lists:

Movies
TV
Music & Games
What was your favorite song/game/movie/show/album you discovered this year?
-Ian Stepp is the Materials Handling Coordinator at Lawrence Public Library.