Have you ever heard the phrase "Fact is stranger than fiction?"  It means that things that really happen are harder to believe or more amazing than stories people invent.  I am so thrilled to introduce young readers to my canine superstar, Jim the Wonder Dog who was one amazing, stranger than fiction dog.  In Marty Rhodes Figley's new book, The True Story of Jim the Wonder Dog (the original book Jim the Wonder Dog by Clarence Dewey Mitchell was written in 1942) readers will learn how a Llewellin Setter Bird Dog named Jim could understand commands given to him in Italian, French, German and Spanish, as well as Morse Code.  Jim also predicted the outcome of the Kentucky Derby, presidential elections and the World Series!  And he was right every time!  How can this be? 
In December of 1931, Mr. Sam VanArsdale, the owner of Jim, took Jim to the University of Missouri to be tested by the top veterinarians.  They observed that Jim was different from other dogs in that his eyes were more prominent and the middle portion of his cranium was very broad.  Otherwise he was much the same as a dog of ordinary intelligence.  Jim was featured in Ripley's Believe It or Not, Reader's Digest, Outdoor Life and other magazines.  The Missouri Ruralist editor said that they had never had as much response from any article as they experienced on their story of Jim.  The story was repeated by popular request 20 years later and brought the same response. Read the article for yourself! 
I grew up on a farm near Sweet Springs, Missouri.  Marshall, Jim's home, was only 15 miles away.  I loved going to "big" town of Marshall.  It had a large swimming pool, a movie theater and paved streets ideal for riding bikes.  Staying with my aunt, uncle and cousins who lived there was always a summer treat.  Throughout my youth, I heard the stories of Jim the Wonder Dog.  My cousins, brothers and I would look for Jim's grave which, at that time, was outside the fence of the Ridge Park Cemetery.  We would hunt through bushes and overgrown shrubs looking for Jim's grave.  Sometimes we were successful and other time we just could not remember where it was.  Now Jim's grave is inside the cemetery which occurred when the area was expanded.  Because folks all loved to go to Jim's grave, a sign now stands pointing the way to Jim's final resting place.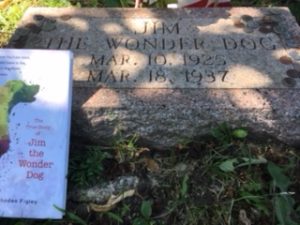 Marshall honors its famous canine with a lovely museum and garden located just off the square on the site of the Ruff Hotel. More information about the museum can be found here.  I hope that at some point you can go to Jim's museum and garden.  The garden is beautiful and very peaceful. 
As you stroll through the garden, you can read about Jim's achievements at stations located along the way.  The waterfall and fish pond are a lovely touch.  Jim would be very proud.  It is truly a fitting tribute to an amazing dog.
I hope you will check out Jim's story.  And, if you read this blog, please come into the children's room.  I have a Jim the Wonder Dog prize for you!  I can't wait to hear what you think!