Guests
From community organizations to enthusiastic nerds, LPL Con guests are excited to share their love and knowledge with con attendees.
Skyler Rehm
Skyler Rehm (he/him) is a Data Analyst, cat dad, and LEGO enthusiast from Lawrence, KS. He will be displaying a combination of official LEGO sets and custom builds from his collection to highlight the creativity found in LEGO designs.
KC Brick Lab
Kansas City Brick Lab is a club by and for adult fans of Lego ®  in the Kansas and Missouri area.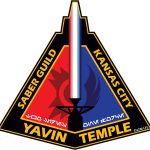 Yavin Temple
Staged lightsaber combat shows under the direction of the Lucasfilm recognized group, Saber Guild.
The Sexual Trauma and Abuse Care Center
The mission of the Sexual Trauma & Abuse Care Center is to promote a culture of consent while providing 24/7 support to anyone affected by sexual trauma and abuse in Douglas, Franklin, and Jefferson Counties.
501st Legion
The 501st Legion is a worldwide Star Wars costuming organization comprised of and operated by Star Wars fans. While it is not sponsored by Lucasfilm Ltd., it follows generally accepted ground rules for Star Wars fan groups.
Rebel Legion
The Rebel Legion is an international Star Wars costuming organization created by, of and for people interested in creating costumes from the Star Wars mythos.