Artists Alley
LPL Con's Artists Alley is full of amazing local artists.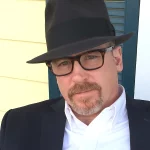 Ande Parks
Ande Parks has worked as a comic book artist for nearly three decades, inking titles such as Daredevil, Ant-Man, Superman, Wonder Woman and Nightwing. Parks' bold style has garnered him nominations in both the Harvey and Eagle awards.
Erica Batton
Erica Batton is a webcomic artist. IRL, I draw and paint for fun. I hope to do it as a living one day, but for now my day job is teaching. 
Plaguedeities Art
Flash/on-site commissions as well as a variety of pride-themed buttons, stickers, and other personal art!
Ian Stepp
Star Wars Art Prints
Honeysuckle Rose Creations
"Up-cycled' kitsch, cool and cute jewelry and accessories at the intersection of Geek and Chic.