This is it, folks. Tom Hanks and I, although forever bonded by these 15 months we've spent together, are officially on a break. Well, until I see Asteroid City in the next couple of weeks. If you've been following along this whole time, thank you! If you haven't, you can find my old blogs here. The TLDR version is that I wanted a fun project to do and decided to watch as many Hanks live action films as I could get my hands on over the course of a year. I watched 48! (It took me 15 months.) As my final farewell to The Hanx Project, I've decided to rank them in order from best to worst. I tried my hardest to put this list in order objectively but I would be a liar if I didn't admit that nostalgia played a part, as did factors like, "Yikes, this hasn't aged well." An example of the latter would be Green Mile— A film with beautiful cinematography, impressive acting, and even a trained mouse— but, tragically, relies heavily on the Magical Negro trope and for that, I had to knock it down the list. Another film I had trouble ranking was Elvis. I whole heartedly loved this movie but admittedly that had little to do with Hanks. Do I rank a movie high on a list when the reason I loved it is because of a different actor? I just don't know! Other than that, however, this list is the end-all be-all. So, don't @ me, as the youths say.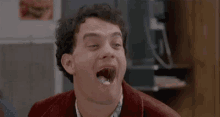 The top ten were the most difficult to decide and I've rearranged this list numerous times. But, ultimately, I chose Apollo 13 over Saving Private Ryan as number one because it was patriotic without being schlocky— something I couldn't say about SPR. The worst ten were the easiest. Punchline is one of the worst movies I have ever seen in my life. Full stop. I knew it would be in the last position as I was watching it a year ago. It is just that bad. 
If you take anything away from this list and this journey, I hope it's joy. I never wanted this to be taken too seriously even though it has become a huge part of my life. Other lessons to be learned here? #1) I STILL DON'T KNOW WHERE TO PUT ELVIS and #2) Turner and Hooch isn't that bad! Anyway, the list:
Apollo 13

(1995)

Saving Private Ryan (1998)

Philadelphia

(1993)

Cast Away

(2000)

 Forrest Gump

(1994)

Big

(1988)

Splash

(1984)

Captain Phillips

(2013)

Bridge of Spies

(2015)

Sully: Miracle on the Hudson

(2016)

 A League of Their Own

(1992)

 Sleepless in Seattle

(1993)

 Road to Perdition

(2002)

ELVIS????? (2022)

The Money Pit

(1986)

The 'Burbs

(1989)

Joe Versus the Volcano

(1990)

Catch Me If You Can

(2002)

Charlie Wilson's War

(2007)

A Man Called Otto

(2023)

You've Got Mail

(1998)

The Post

(2017) 

A Beautiful Day in the Neighborhood

(2019)

News of the World

(2020)

A Hologram for the King

(2016)

The Green Mile

(1999)

That Thing You Do!

(1996)

The Terminal

(2004)

Turner & Hooch

(1989)

The Man With One Red Shoe

(1985)

Saving Mr. Banks

(2013)

The Great Buck Howard

(2008)

Mazes and Monsters

(1982)

The Da Vinci Code

(2006)

Nothing in Common

(1986)

The Bonfire of the Vanities

(1990)

Every Time We Say Goodbye

(1986)

The Ladykillers

(2004)

Cloud Atlas

(2012)

He Knows You're Alone (1982)

Volunteers

(1985)

Extremely Loud & Incredibly Close

(2011)

Larry Crowne

(2011)

The Circle

(2017)

Angels & Demons

(2009)

Inferno

(2016)

Bachelor Party

(1984)

Punchline

(1988)
And there we have it. There were a couple I ranked low (Mazes and Monsters, The Man with One Red Shoe) that I personally find delightful but can see are not what we'd consider Hanx's best work. I didn't include any animated films but I do need to give a shout to Buzz and Woody from Toy Story for being my kid's first obsession in life. Those movies will always hold a place in my heart. 
 
"We rode like the wind, to infinity and beyond." -Hanx after wrapping Toy Story 4 and me after writing all of these blogs.
-Sarah Mathews is an Accounts Assistant at Lawrence Public Library.