"If there's a book that you want to read, but it hasn't been written yet, then you must write it." ― Toni Morrison
Two of my favorite recent reads are award winning debuts centering Indigenous characters coming of age, persevering in contemporary challenges, and finding inner strength to resist marginalization with humor and heart. When Indigenous authors give voice to characters who reflect their own experiences there is powerful, compelling, and inspiring resilience in their stories.
Murder on the Red River by Marcie R. Rendon is an entrancing, lyrical & spare Indigenous-wise coming of age mystery set along the Red River in Minnesota and North Dakota during the era of the Vietnam War in the 1970s. With emphasis on injustices endured by Native American families and children through the foster care system, Ojibwa heroine Renee "Cash" Blackbear is irrepressible; she endures foster care then finds an advocate and independence as a truck driving farm worker and tournament champion pool player. Her advocate is Sheriff Wheaton and thanks to insight Cash gleans through dreams, she assists in solving crimes. This first book in the series earned the Pinckley Women's Debut Crime Novel Award. I look forward to opening the second book of the series, Girl Gone Missing, when Cash ventures into a local state college; both books are available in print and digitally via Hoopladigital.com, opens a new window as eAudio & eBook. Marcie R. Rendon, opens a new window is an enrolled member of the White Earth Anishinabe Nation (Ojibwa Indians) in northwestern Minnesota; read more from the prolific writer and advocate via Marcie R. Rendon's website, opens a new window.
Jonny Appleseed by Joshua Whitehead is a candid, lyrical coming-of-age tale of bold, queer trickster experiences and at times, sexually explicit. With much humor and heart-rending reflections of family, Jonny is a storyteller who dances forward and back in time as he reveals his struggles and triumphs—sprinkled with many pop culture references. Also semi-autobiographical, a powerful homage to the author's great grandmother is thoughtfully woven in. This phenomenal work is recognized with the Lambda Literary Award, Georges Bugnet Award for Fiction, and the 2021 Canada Reads winner. Bravo to Canada Reads for championing Jonny Appleseed! Jonny as a character is an empowering avatar or talisman for all queer communities and for every reader to become a better ally. Joshua Whitehead, opens a new window describes himself as a "Two-Spirit, Oji-nêhiyaw member of Peguis First Nation (Treaty 1)", north of Winnipeg, Manitoba in Canada. I recommend listening to the author read his book, available as an eAudio in Hoopladigital.com, opens a new window. Whitehead is also a poet as well as an editor and contributor of Two-Spirit & Indigiqueer speculative fiction anthologies; discover more from this ambitious writer, scholar, and activist at Joshua Whitehead's website, opens a new window.
---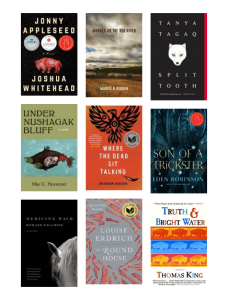 I hope you are inspired to explore these resilient stories and read even more from this list of Indigenous coming of age stories by Indigenous authors (Own Voices), opens a new window, including both contemporary and historical fiction.
Be sure to also review "An Indigenous Peoples' Reading List, opens a new window" from Kimberly Lopez, my esteemed Book Squad teammate.
I am inspired to acknowledge traditional Native lands. In our region near the Kansas (Kaw) and Wakarusa Rivers, I want to honor the Dakota, Delaware (Lenape), Kansa (Kaw), Kickapoo, Lakota, Osage, Sac and Fox, Shawnee, and actually hundreds more tribes who find connection here with Haskell Indian Nations University. As Ken Lassman (author of Wild Douglas County, opens a new window and Kaw Valley Almanac, opens a new window) noted: "Haskell Indian Nations University is the United Nations of tribes, with members of hundreds of tribes coming here over the lifetime of its existence.
---
Acknowledgements
Appreciation to Denise Low, opens a new window for helping me make sure I acknowledged each Native American tribe by their preferred name.
Gratitude to Sharyn, Connie, Lois, and all the members of the Mystery Book Club, opens a new window for championing my deeper search and discovery for wider reading choices!
- Shirley Braunlich is a Readers' Services Assistant at Lawrence Public Library.
---