My concept of time has been warped since March 13, 2020. As I am writing this (it being September), the weather reminds me of the cooler, rainy days from that week. In a way life feels a bit like Groundhog Day. Everyday feels eerily similar to the next. This gif alone sums up how it feels to live in a pandemic with no end in sight.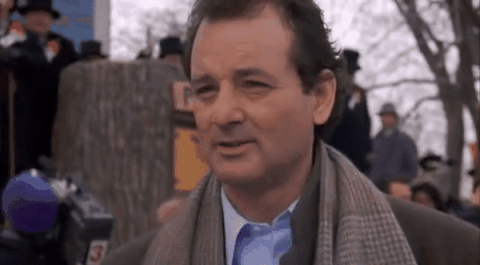 Even before this pandemic, it does feel like most of us are in this continuous time travel. I have social media accounts that date back to when I was a teenager. It's like always going through a box of old memories. Seeing old high school classmates that I haven't spoken to in nearly ten years are still friends with me on Facebook. In a weird way the past feels parallel with the present.
Because time doesn't make sense anymore, I have slowly started to become a connoisseur of time travel shows and movies. For the past couple of weeks, I have binge watched shows like Sabrina the Teenage Witch and Outlander. These shows have been escapes into reckless adventures and hijinks. They allow me to travel without having to alter the pattern of time. Maybe at some point, we will eventually get out of this time loop. In the meantime, hang in there.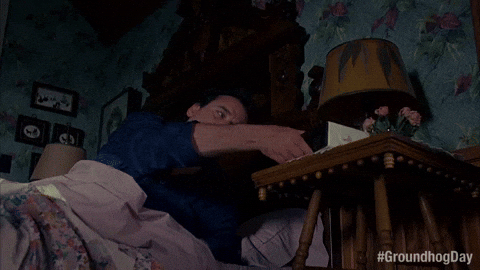 Donnie Darko

Well, maybe not the best escape movie but it will stay with you long after the credits roll. Plus you get to meet an imaginary creature halfway through. I don't want to give any more of the plot away if you haven't already seen it.
Bill & Ted's Excellent Adventure

I have yet to see this time travel classic. However, since Keanu Reeves and Alex Winter have revived their roles for "Bill & Ted Face the Music", I had to add this one. Based on friends recommendations and seeing rave reviews for the latest "Bill & Ted" installment, I'm going to give this a watch this week.
A classic time travel series that has been a favorite in my family. To be honest, I am not a fan of the second installment. Mostly because it feels all over the place and filled with terrible futuristic fashion. However messy Back to the Future II is, it is worth a watch during a movie marathon.
Filled with witty dialogue and an excellent cast with just a hint of time travel (it's a pretty short amount but significant to the plot). "Galaxy Quest" is a spot on satire of Sci- Fi franchises. It never fails to leave me in stitches after watching it.
You don't have to be a Star Trek fan to watch this. I'm not a Trekkie but this is probably the only Star Trek movie I have fond memories of watching as a kid. Captain Kirk and Spock along with the rest of the crew land on Earth in the year 1986 in search of… whales. That is all the more I am going to say.
I must confess; this is a guilty pleasure of mine to watch. A romantic time travel movie with Sandra Bullock and Keanu Reeves corresponding to each other through a mailbox despite being two years apart. If you do watch this, please try to not think too hard behind the physics of how time works in the story. It does not make any sense.
Based on the classic children's novel and with a star studded cast, it is another time travel movie that both kids and adults can watch. It looks beautifully shot that is filled with adventure and awe.
This is one of those movies I intend to watch but never in the mood for. Based on the trailer and reading the synopsis; it is about a gunman known as a "Looper" that kills whoever appears from the future since it is illegal to time travel. Things go haywire for Joseph Gordon-Levitt's character when he meets his future self. I will have to watch it since I have to figure out what happens.
A personal favorite movie of mine. Bill Murray plays a self absorbed meteorologist stuck in Punxsutawney, Pennsylvania to cover the annual Groundhog Day celebrations. Unbeknownst to his colleagues and the rest of the town, Murray has to relieve the same day on loop. It is one of those rare movies where rewatches are necessary to be able to catch little details.
-Margaret Burke is a Technology Assistant at Lawrence Public Library.