In the house I spent a good chunk of my early childhood there was a built in Lazy Susan. Remember those? None of my adulthood homes have had one, but none could top the one in the kitchen of the house on Main Street anyways. It was magic, you see. The walls inside it were papered with a dollhouse-like scene. A kitchen within a kitchen, complete with a wood burning stove, a woven rug, a table and chairs, rows of cupboards, books and knickknacks on surfaces, warm, cozy light.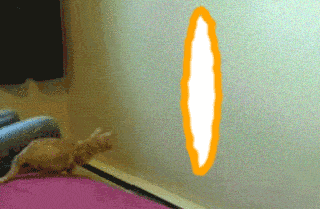 It captured my fancy like little else at that time in my life, besides books, of course. And my parents and older siblings, all champions of imagination, would create narratives about the miniature people who lived within. They were fearful of the too big outside world and therefore would hide whenever the Lazy Susan was opened. You either had to be super sneaky, quick, or special to ever catch them.
It wasn't long before I was creating narratives of my own, including ones that involved my acceptance into their secret world. I would crouch down and shuffle through the rotating cabinet (a claustrophobic nightmare in hindsight), pretending that on my third time around a portal would open that would grant me entry. And even if I seemed to pop right back out the other side in less than a minute, it was actually hours, days even, that I was visiting the tiny, magical family of the Lazy Susan.
I guess that was the beginning of my infatuation with portal fantasy. Since then,books with a magical wardrobe, a rabbit hole, a tesseract, a Platform 9 ¾ seem to have imprinted on me and here I am as an adult, still seeking those magical paths that take the protagonist and the reader out of their here and now and plop them into an unfamiliar there and then. Fortunately for me, many of today's most talented fantasy authors have been similarly inspired and portals in adult fiction abound.
In fact, by happy accident, I read two such books back to back to close out 2019. If you're at all like me, always wanting to step into, run through, tumble down, spin 'round, or in some fashion be whisked away through an inexplicable furrow in reality to someplace magic, you should check these out post haste.
---
The first was The Ten Thousand Doors of January by Alix E. Harrow. A Hugo award winning writer of science fiction and fantasy short stories, Harrow stunned with this debut novel.

January Scaller exists as an "in between sort of thing" in the life she lives. Her mother is long dead, and her father is a mysterious and mostly absent figure, always running around acquiring precious artifacts to hand over to his employer and January's defacto guardian, Mr. Locke. January's adventurous spirit and dark skin set her a world apart from her peers and her existence is a mostly lonely one.
Until she is gifted a book with a remarkable story on its pages. What follows is an enthralling nested narrative, switching back and forth between January's world and the world in the book, full of magic, wonder, adventure, and doomed love. For reasons she can't explain or ignore, January feels the book is the answer to lingering questions about her own past and her steadfast conviction that there are doorways to new worlds if only one is brave enough to look.
This book checked another box on my YES, PLEASE list of story elements: It features a furry, stalwart companion named Bad, who is actually the goodest boy ever and saves the day on multiple occasions. A truly original story, rich cast of characters, and written in a lyrical voice that was difficult to put down at night, and even more difficult to turn the last page, I adored this book and cannot wait to read what Alix E. Harrow comes up with next.
---
Directly on the heels of that adventure, I embarked on an eerily similar but still somehow totally unique journey to discover the secrets of The Harbor in Erin Morgenstern's The Starless Sea.

Author of the popular 2011 fantasy novel, The Night Circus, Morgenstern stayed true to her one of a kind, heavily stylized, dreamlike prose. I got lost in this book and I mean that in all the ways it implies.
Zachary Ezra Rawlins is the seriously studious and effortlessly charming protagonist. (A few chapters in I settled on Eddie Redmayne as who I would picture in my mind to represent Zachary. You can thank me later.) Just like in The Ten Thousand Doors of January, he stumbles upon a mysterious book containing a story from his life that sets him off on quest to understand the unfathomable. 
Where The Ten Thousand Doors of January is a meandering story, The Starless Sea is a careen. Also a nested narrative, the reader unravels the mysteries of a secret, ancient underground library in a dizzying but satisfying way, alternating between chapters of fables and myths of the Harbor and Zachary's own experiences as he struggles to understand his role in the fate of this romantic and magical place. Full of beauty, books, metaphors for the power of story, and (sometimes reluctantly) loyal feline companions, I know I'll be thinking about this book for a long time to come. This quote in particular has stuck with me:
"For those who feel homesick for a place they've never been to. Those who seek even if they do not know what (or where) it is that they are seeking. Those who seek will find. Their doors have been waiting for them."
For what are readers if not intrepid adventurers seeking to escape to other worlds, and what are books if not their doors?
For more portal fantasy reads, check out this list.
Happy travels. 
-Leah Newton is a Readers' Services Assistant at Lawrence Public Library.