Due to COVID, the library has been gradually reopening services in a safe way in alignment with Lawrence Douglas County Health Department guidelines. This page hosts our phases chronologically, beginning with our current service level at the top.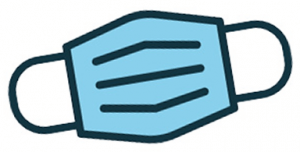 BLUE LEVEL — Expanded LPL Express
MON–THU | 10 AM-8 PM
FRI–SUN | 10 AM-6 PM
As of August 9, 2021 the City of Lawrence requires face coverings in all City buildings, regardless of vaccination status, in alignment with Douglas County Unified Command partners. The requirement of face coverings applies to City employees and members of the public who visit City buildings. 
All services from Green Level continue with the exception of free printing
Browse without a time limit
Seating is available, but limited
Elevator is open
Lower Level restrooms are open
Osma Room is open
Kids' Study Nooks are open
MIDCO Computer Lab relocated to Lower Level
Reserve a Study Room
Reserve Meeting Room C
Reserve S+V Studio Suites B&C
Shop the LPLFF Book Store by appointment
Library Auditorium
Meeting Rooms A&B
S+V Studio Suite A
S+V Recording Studio
Teen Zone
Children's Reading Cubbies
Children's Computers
GREEN LEVEL — LPL Express: Expanded building access, hours, services
Began June 29, 2020 | Masks required; 50-visitor limit during business hours
Click map to enlarge and download
Note: In the map below, areas in green are open for use, while those in gray are closed.
YELLOW LEVEL — Limited building access, hours, and services
Began June 1, 2020; Open daily from 12-6 PM
 Phase 2 — Opening the Main Lobby, Accounts Desk, and self-check machines
RED LEVEL — Building closed to the public with outdoor walk-up services
PHASE 1.5 — Placing holds resumes
Phase 1 — Walk-up services only