The librarians are in with their favorite recommendations in Two Book Minimum, a toe-to-toe discussion on a book or topic, as well as news from the book world, library updates, and beyond.
Tune in monthly for a new episode.
In this episode we're give you all the insider information you need to celebrate Booktoberfest.
In this episode Polli and Adam talk about all things Romance! Listen for spicy takes, Love Island references, and highly recommended books.
In this episode you'll find little to no rambling, some discussions on our must-read books, and a cryptic Thor: Love & Thunder reference.
I'm into memoirs, romance, family sagas, sociological musings, books about how or why, wit and wordplay, and stories that immerse and transport. You can find me here.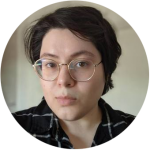 I like portal fantasy, fairy tales, Gothic fiction, true crime podcasts, Queer romance, and short stories. I'm a die-hard Hufflepuff, eccentric Leo, and hot mess. You can find me here.
ABOUT: Launched in 2016, the Book Squad Podcast was created to help connect you with your next great read. Whether you're a total book nerd running out of ideas, a lapsed reader looking to reconnect with books again, or a reluctant reader who's conviced books just aren't for you, hosts Polli and Adam bring an encyclopedic scope of what's out there. From die-hard readers to curiosity seekers, tune in, get inspired, and fall in love with books again (or the very first time.)