Improvements are coming in 2019 on devices, hardware, and software throughout the library, thanks to funding from MIDCO® and The Library Foundation and with the hard work of the library's team.

"The main difference between the new computers and what they are replacing is performance. The new systems will be dramatically faster," says Aaron Brumley, Technology Coordinator.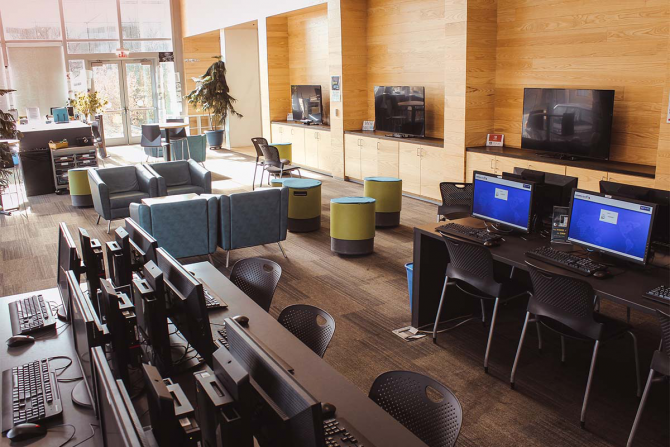 Recently upgraded: 18 computers in the Teen Zone. Fortnite, anyone?

Upcoming changes throughout the library in 2019
The 10 computers outside the lab in the open space on the lower level are next up for replacement
3 Early Literacy Stations in Children's will be replaced with 4 stationary iPads
The 3 end panel catalogs in the nonfiction stacks will soon be replaced by 3 x 12.9" iPad Pros
The Macs in the Studio will be upgraded with faster hard drives and more RAM
The LPL Tech crew makes continual improvements to better meet the needs of patrons who utilize in-house computers for work, catalog browsing, research, and entertainment. Their work to maintain and upgrade equipment is just one aspect of this team's focus. They also assist patrons with tech help in thousands of interactions at the tech desk and during Tech One-on-One and Tech Drop-In programs. 
Technology + libraries = crucial services
While often taking just a minute, their interactions with patrons and care for the library's technology has far-reaching impacts for Lawrencians who don't have easy access to the internet.
Take a look at the infographic below for the skinny on all things LPL Tech and why it's important for public libraries to provide technology resources and services to their communities.